Thanks to Graham Low from East Coast Fitness for his article in the Sunderland Echo on 11th July 2018.
He talks about how yoga has made improvements to his other physical activities including lifting heavier weights, running faster without injury plus improvements to his core strength.
Read his full article by clicking on the image below.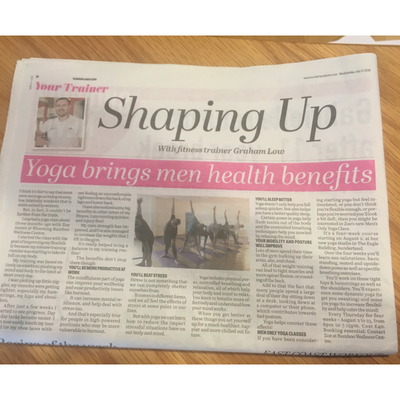 Workshops & Courses
Spring Equinox - Yin Yoga Practice
Friday 20th March - 6:30pm
£20
SEAHAM
Find out more
Longing to Belong - Kundalini Workshop
Sunday 22nd March - 2:30pm
£20
SEAHAM
Find out more
Yoga + Hiking Residential Retreat
Friday 27th to Sunday 29th March 2020
£295/310
Cumbria
Find out more
Absolute Beginner Yoga Workshop
Saturday 18th April - 11:30am
£15
SEAHAM
Find out more
Chakra - Yoga & Meditation workshop
Friday 24th April - 6:30pm
£20
SEAHAM
Find out more
Meditation workshop
Friday 15th May - 7pm
£15
SEAHAM
Find out more