NEW DATE ADDED
Next course starts Wednesday 6th November

Blokes only
We are sick of hearing blokes who think yoga is only for women… this is far from the truth. This course will expel that myth.
What to expect
This SIX week course is designed specifically for men.
If you have been considering starting yoga but feel intimidated because you think it's only women, or you don't feel flexible enough, or perhaps you're worried you'll look a bit daft… then this course is for you.
We will break the myth that yoga is for women, and that you have to be flexible to try it.
You'll learn sun salutations, basic standing, seated and upside down poses as well as specific breathing exercises. We'll work on those tight hips & hamstrings as well as the shoulders.
Be prepared to work hard!
You might sweat, you might even swear.
You will increase flexibility, strength & stamina.
You will laugh.
You might cry. (I hope not, but you might)
You'll experience some dynamic yoga (to get you sweating) and some yin yoga (to increase flexibility and help calm the mind)
This course is intended to help you feel confident enough to join a general class after the 6 weeks.
Testimonial from Rod
I started my yoga journey with Zoe at Blooming Bamboo at Yoga for Blokes. Super fun, good company. I have continued my yoga practice at several follow on classes and now regularly attend a class every week which has improved my fitness and flexibility. Give it a go fellas. Highly recommended!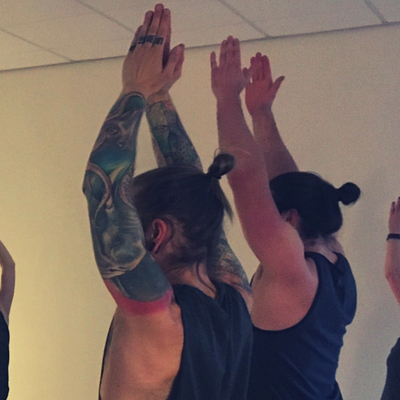 Who is it for?
This course is for you if:
You've been fancying trying yoga but haven't got round to trying it yet
You want to find out what all the fuss is about
You want to feel confident to join in general yoga classes
You want to increase strength, stamina & flexibility as well as calm the mind
You're ready and willing to give it a try, in a safe & fun environment
Who is it not for?
This course is NOT for you if:
You're not a bloke (sorry ladies!)
You're an experienced yogi already – this is for beginners (or nearly beginners)
You're not ready to try something new
You think yoga is too easy for you (although I challenge you to try it!)
When, Where & How Much?
Wednesdays from 6th November
For 6 weeks
7:30-8:45pm
Blooming Bamboo, SEAHAM
£60
Testimonial from James
I have thoroughly enjoyed working with Zoe and have found her to be patient, knowledgeable and guiding as she has led classes and given advice 1:1. I didn't truly understand what yoga was aside from what I'd seen – so to have someone guide you from the fundamentals, supporting each step of the way has been truly invaluable. I would encourage people who want to start or continue their journey to try Zoe as I found it to be exceptionally helpful. I have begun practising!
Book early to avoid disappointment
As with all our classes and workshops, booking is absolutely essential and we do expect this session to be popular so early booking is recommended.
Praise for yoga
East Coast Fitness Founder Graham Low: "I've been doing HIIT training for years. I added Yoga to my training routine 4 weeks ago and already seeing huge benefits!!"